Modern Foreign Languages
Curriculum Aims
At Wade Deacon High School, we understand the significance that language learning has upon on our students' journey to becoming global citizens. It promotes and celebrates cultural differences as well as liberating students from insularity. Furthermore, being proficient in at least one modern foreign language open doors in whatever industry a student may choose. The curriculum is ambitious, engaging and designed to give all students, the knowledge and cultural capital they need to succeed in life. As a result, students achieve and enjoy language learning at Wade Deacon High School. They understand its importance, embed key concepts in their long-term memory effectively and communicate with increasing confidence in the target language.
Our students will understand the importance and enjoyment of language learning and be able to communicate with increasing confidence in their target language. Moreover, they will develop as culturally rich citizens, learning transferable skills that can help them to achieve success later in life.

Our Curriculum Journey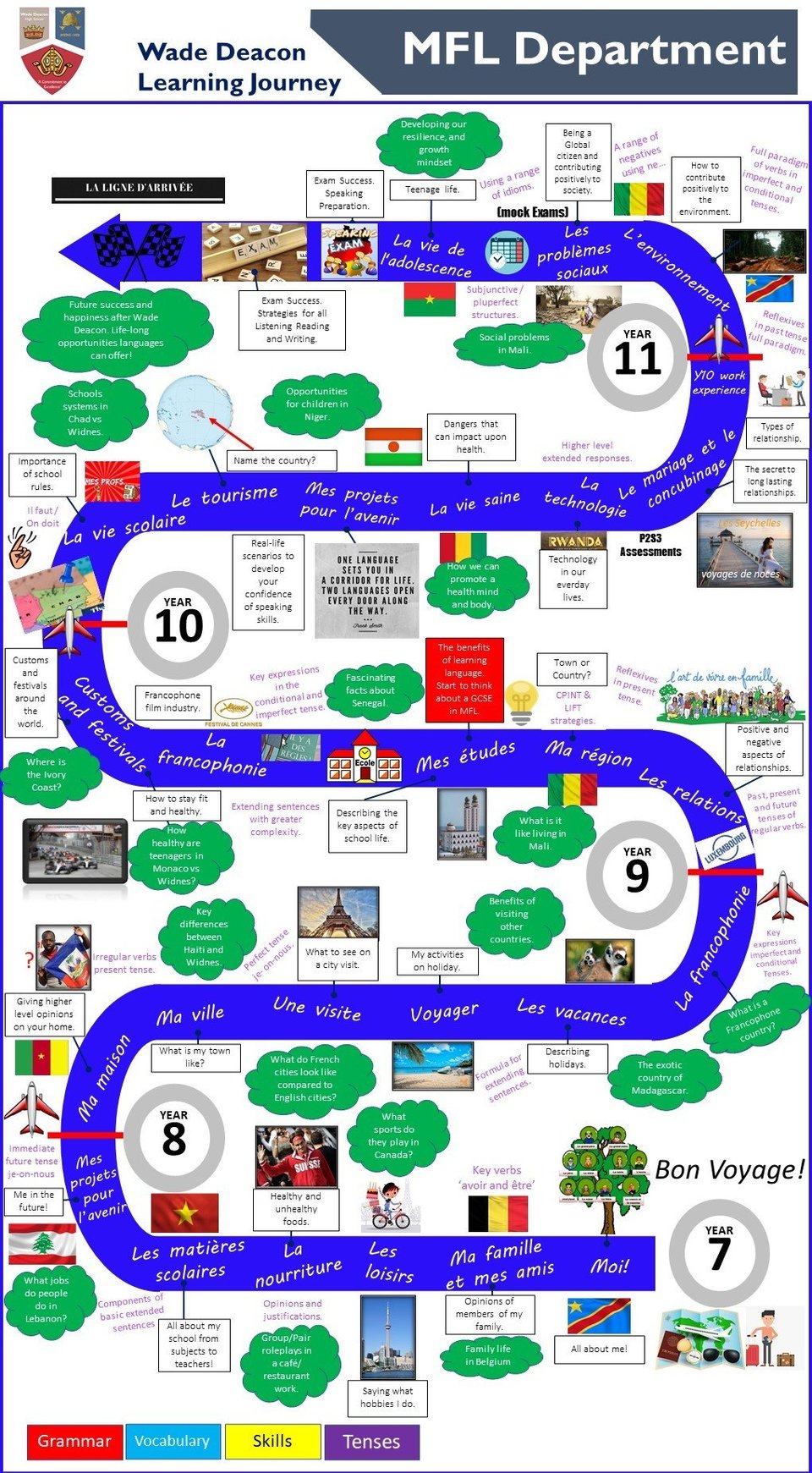 Foundation Stage
Our students begin their languages' learning journey at Wade Deacon High School studying French in Years 7 and 8. Whether students are novices or have prior knowledge, the teaching staff will use their expertise to ensure that every student receives the necessary support and challenge to thrive and enjoy learning a foreign language. Students have 4 French lessons a fortnight which are interactive, engaging and in which they will be regularly given the opportunity to develop their skills of listening, speaking, reading and writing. As a result, students will master the key knowledge, strategies, and grammar and be able to express themselves with increasing confidence in French. Furthermore, in the MFL department, we understand that it is fundamental to inspire in the Foundation Stage within our students a love of languages and appreciation for different cultures, broadening students' horizons, educating them to be globally aware and encouraging them to become culturally sensitive.
Key Stage 4

French GCSE (AQA)
Une langue différente est une vision différente de la vie.
We are passionate about the benefits of learning a language here at Wade Deacon High School. We strongly believe that taking French to GCSE level provides students with transferable skills, relevant to further study and the world of work as well as being enjoyable and rewarding.
Our objective is to enable students of all abilities to develop their French language skills to maximise their potential, equipping them with the knowledge to understand and communicate in a variety of contexts with confidence. As a result, we build sequentially on the foundation blocks established in Years 7 and 8; systematically reviewing the fundamentals to ensure that all pupils are able to acquire the intended knowledge and skills, understand the sophisticated nuances of the language and be successful. Moreover, the range of topics, on which we focus, inspires students' interest in French culture and French speaking countries.
Students study in depth the following themes over the course of the three years:
Theme 1: Identity and culture.
Theme 2: Local, national, international and global areas of interest.
Theme 3: Current and future study and employment.
At the end of the course, students will sit four papers to demonstrate their knowledge, skills and understanding of the French language. This can be summarised below as found on the AQA website:
---