Science
Curriculum Aims
We aim for all students appreciate the fundamental principles of science so that they are able to use their scientific knowledge and understanding to interpret and the world around them. Students will develop observational, analytical and evaluation skills so that they leave Wade Deacon better prepared to navigate their world with informed scientific and ethical perspective.
Our Curriculum Journey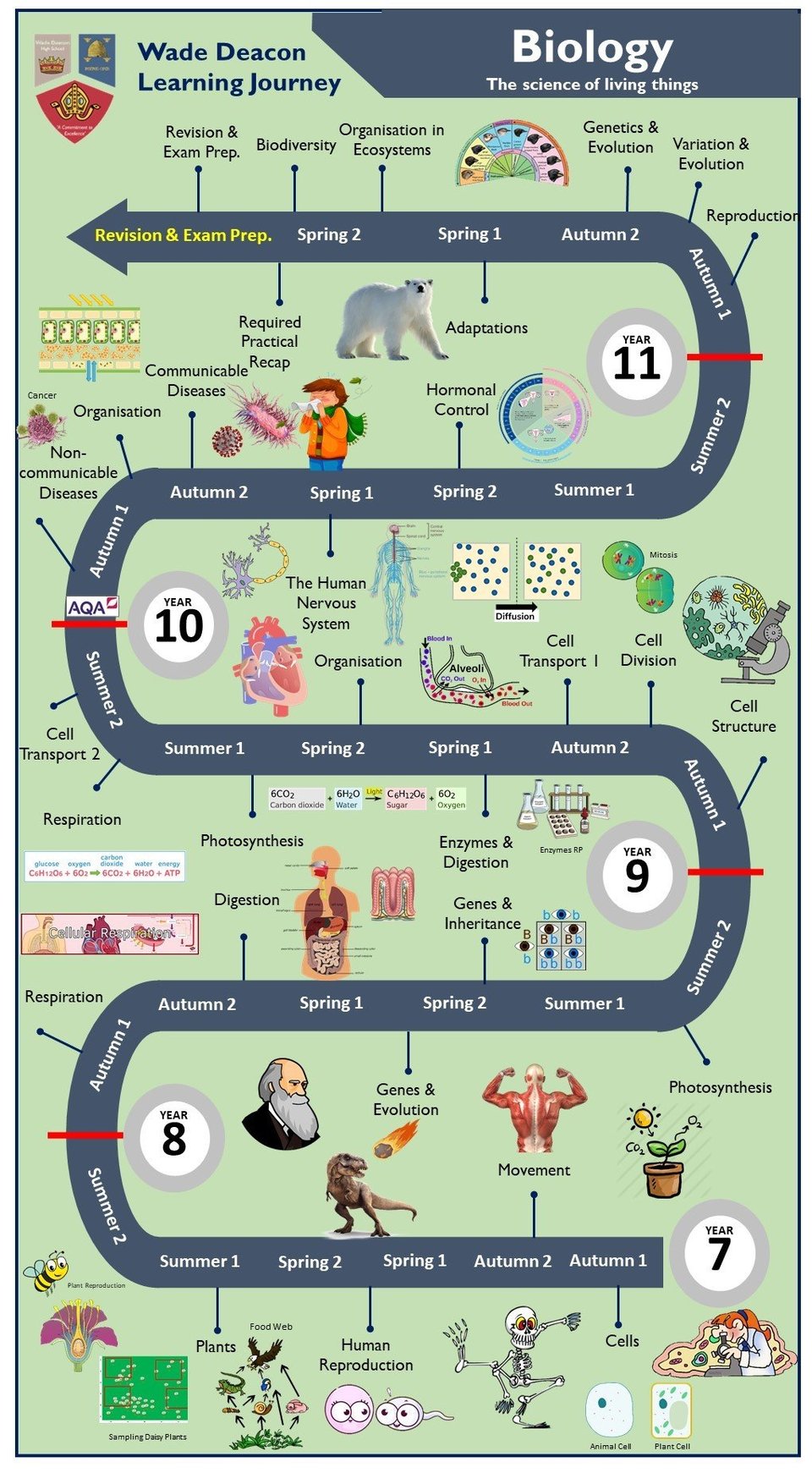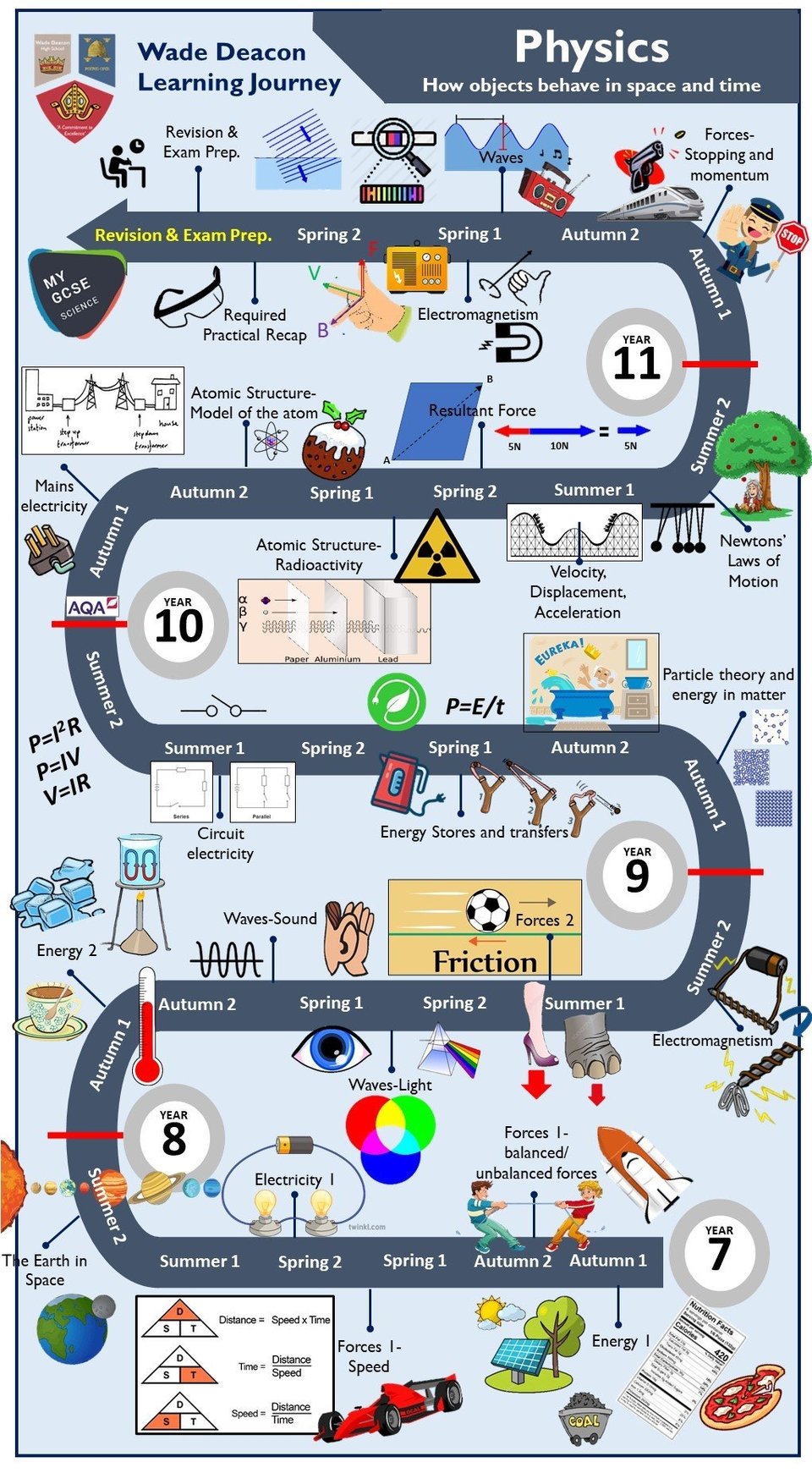 Key Stage 3
At foundation level, we believe pupils must experience a passion for Science. Our curriculum is designed to be fun for pupils and aims to emphasise relevant issues in current science whilst pupils learn the specific subject knowledge and skills that underpin their KS4 studies. We use the AQA Kerboodle suite of resources to support pupils in Science. Pupils receive a login when they start in year 7 and will continue to have access to online resources throughout their school science career.
Each science discipline (Biology, Chemistry, Physics) is taught in periods of learning. At the end of each period of learning, pupils undergo a MAP (mini assessment point). Teachers provide bespoke feedback to pupils to help them understand if they are still developing their learning, secure in their learning, are mastering that period of learning or excelling in it. Homework is either bi-weekly or project based depending on the time-point in the academic year. RISE points and half termly rewards are awarded for outstanding or consistent effort, creativity and scientific accuracy and show teachers recognition of hard work and pupil achievement.
Key Stage 4
Combined Science Trilogy (AQA)- 2xGCSE grades
In Year 9, all pupils study Science as part of the Combined Science GCSE course. Pupils have 9 lessons over a two week period. All pupils have 3 subject specific science teachers and thus study 3 lessons of Biology, Chemistry and Physics per fortnight. There are a set number of Required Practicals which pupils must complete during class time to enable them to answer questions in their final exam or interpret similar investigations. MAPS are a key feature of success in science. They facilitate purposeful feedback and acceleration of pupil learning. Pupils continue to have access to Kerboodle to support their learning. Pupils will have a summative assessment twice in year 9. Pupils are expected to complete homework to support their in-class learning.
Year 10 learning begins to have more of an exam focus. Exam technique is a typical feature of lessons in year 10 as preparation for GCSE study begins. Students will be encouraged to study independently throughout year 10 and 11 in order to develop rapid recall of knowledge and skills. As a result, bi-fortnightly homework is set either to practise skills learned in class or to revise prior learning. Our Simple Science Strategy (SSS) for revision is promoted through the use of my-gcsescience.com. MAPS are used to check periods of learning in each science discipline and pupils are expected to demonstrate productive use of that feedback. Pupils will have 3 summative assessments in year 10, the latter of which is a full mock GCSE examination paper in each Science discipline.
The final year of this GCSE course sees the accumulation of three years' worth of scientific knowledge and skills coming to fruition. MAPs and homework will continue to support pupils' independent learning at appropriate time-points. Analytical skills that have been developed over this time will be transferable across the sciences and deep subject specific knowledge will equip pupils for their final exams. Three summative assessments in this final year will ensure exam technique has been thoroughly practised and will help to normalise examination conditions. Pupils will sit 6 final exams on this Science course (2x1hr 15min exams for each Science discipline) equating to 100% of the final GCSE.
Qualification

Papers

Content

Length of each paper

Trilogy Combined Science (worth 2 GCSEs)




Six papers.

Two papers for each science discipline

Specific content is tested on each paper (see the table for Separate Science below)

Questions on Required Practicals are included in exam papers

1 hour 15 minutes

(7.5 hours total)
Separate Science GCSE (AQA) – 3xGCSE grades
The main purpose of the Separate Science GCSE is to enable pupils to develop a deeper and broader understanding of the subject. More content is covered in comparison to the Trilogy Combined Science course and there are more Required Practicals for the students to complete and be examined on. Pupils who desire to study this subject beyond GCSE are more suited to this GCSE route. The final exams account for 100% of the GCSE but pupils will have longer exams (see table below).
Qualification

Papers

Content

Length of each paper

Biology

Two papers equal weighting

Topics 1-4

Topics 5-7

(Fundamental concepts and principles are on both papers)




1 hour 45 minutes

(3.5 hours total)




Chemistry

Two papers equal weighting

Topics 1-5

Topics 6-10

(Topics 1-3 are common content on both papers)

1 hour 45 minutes

(3.5 hours total)




Physics

Two papers equal weighting

Topics 1-4

Topics 5-8

1 hour 45 minutes

(3.5 hours total)

Total Assessment Time







10.5 hours