About Us
Our History
We are proud of our rich history and heritage. Wade Deacon High School traces its origins back to 1507 when the original grammar school was founded by Bishop William Smyth. The main building, with its art deco façade, was opened in 1931 as Wade Deacon Grammar School, named after Sir Henry Wade Deacon; a prominent local industrialist and, for many years, Chairman of the Local Education Committee.

Our Community
Our school is held in great affection by the local community and we work hard to ensure that this excellent relationship is preserved. Through our Student Leader Programme, the school is heavily involved in a range of community events and fundraising throughout the year with numerous charity organisations benefiting from the generosity of The Wade Deacon Family. Our charity partners include: The Whitechapel Centre, The Lilac Centre, Save the Children, Cancer Research UK, Ronald MacDonald House, The Prince's Trust, The Rainbow Trust, Willowbrook Hospice, Water Aid, Merseyside Dogs' Home, Young Minds and Together for Short Lives.

Our Students
From each and every student, we ask for only three commitments: 'Respect Yourself and Others,' 'Give the Very Best of Yourself' and 'Believe in Yourself' and they do not disappoint; maintaining the highest standards, both in school and in the wider community in terms of attitude to learning, behaviour, respect and uniform. Our students were officially designated as World Class in December 2017 and fully deserve this accolade. Our Year 9 Boys' Rugby League team are the current National Schools' Champions. Needless to say, we are immensely proud of our students.

Our Accreditations
The ultimate aim of Wade Deacon High School is that it becomes the best school in the country and, whilst awards and accreditations do not guarantee this, they are, nevertheless, important markers for us. As well as holding the status of World Class Students, we are also a Centre of Excellence for The Duke of Edinburgh Award Scheme. We hold the coveted Artsmark Platinum Award - one of only one of 5 schools in the North West to have done so. We hold The International School Award for outstanding development of the international dimension in our curriculum. Our Physical Education Faculty is currently ranked in the top 5 of all schools in the UK. In July this year, we achieved the SMSC Gold Award for our exceptional commitment to the Social, Moral, Spiritual and Cultural development of our students.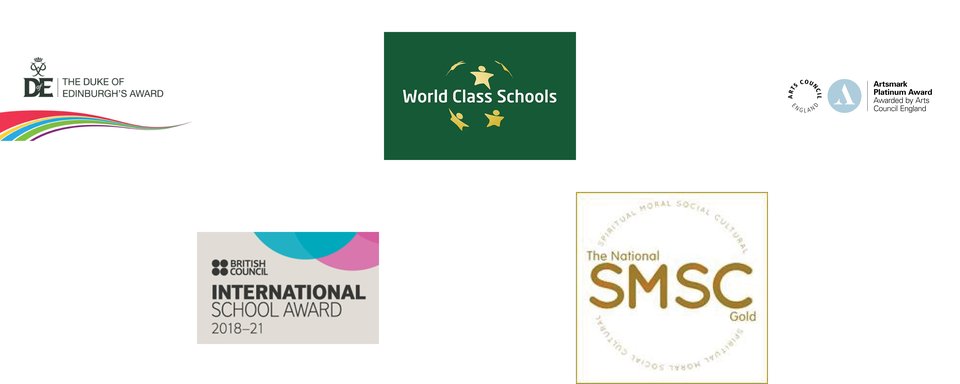 .