Motto, Vision and Core Commitments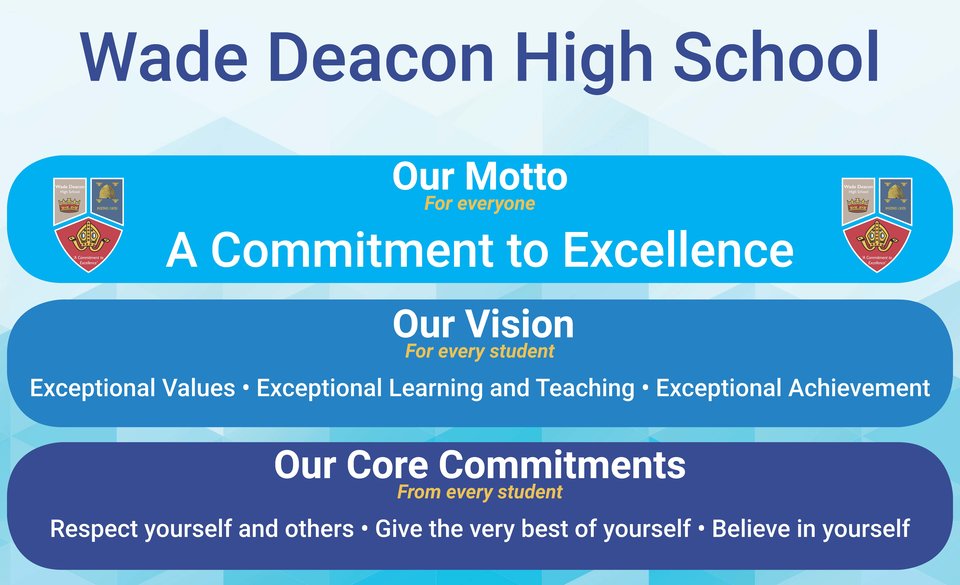 The motto of A Commitment to Excellence and vision for Exceptional Values, Exceptional Learning and Teaching and Exceptional Achievement, provide the foundations for our belief system. A disciplined, supportive and purposeful learning environment, allows our students to excel across the whole curriculum and become the exemplary citizens that we want them to be.
Our students are encouraged to take pride in their achievements and we have the highest expectations for them in terms of their academic work and the attitude to learning that each should demonstrate. From every student, we ask for three core commitments: Respect yourself and others, Give the very best of yourself and Believe in yourself. We encourage all students to aspire to be positive role models, both in school, and in the wider community. Our strong belief in The Growth Mindset provides our students with the necessary skills and confidence required to meet life's many challenges in the future.
What our Motto, Vision and Core Commitments mean to our students:
'To me it means the dedication that teachers show. They are constantly giving their time to support us'
'To me it means everyone going out of their way to help students to achieve'
'It's about being the best you can be and students and teachers pushing you to do this'
'It's about things not being easy. If something is easy for five years it is not really an achievement. If you go through tough times and get through it, then the effort and commitment will reflect in your results. To sum it up, it's about getting past any struggles and not just achieving your target, but surpassing it'
'It's not a commitment to getting a particular grade at GCSE. It's about being able, after every year or after every test or every task, to say to yourself - you know what, I did my best there. It's about your own commitment to excellence and doing your very best'