Safeguarding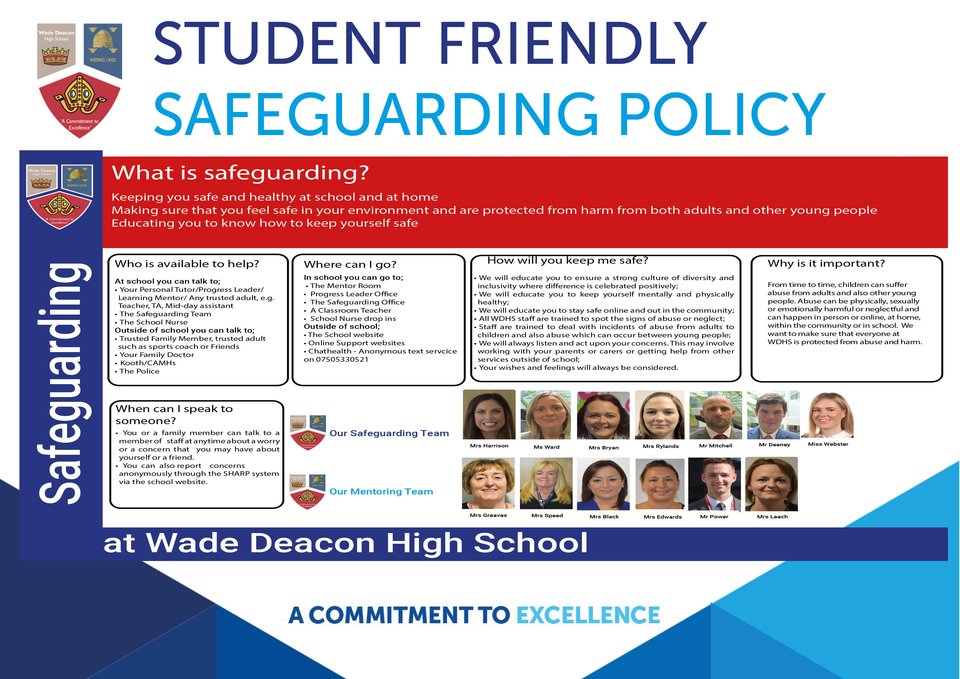 Safeguarding Principles
Wade Deacon High School is committed to safeguarding and promoting the health, safety and well-being of every student. We expect all staff, governors and volunteers to share this commitment.
We have a number of policies and procedures in place that contribute to our safeguarding commitment, including our Child Protection and Safeguarding Policy, which can be viewed here: Safeguarding & Child Protection Policy
We listen to our students and take seriously what they tell us. Students are made aware that they can talk to any adult in school if they have any concerns. All staff are trained in safeguarding and receive regular safeguarding updates, including the signs and indicators that a child may be being harmed or at risk of harm and the procedure to record and report any student disclosures.

Wade Deacon High School also has a statutory responsibility to share any concerns it might have about a child in need of protection with other agencies and in particular police, health and children's services. Schools are not able to investigate child protection concerns but have a legal duty to refer them. In most instances, WDHS will be able to inform the parents/carer of its need to make a referral. However, sometimes the school is advised by children's services or police that the parent/carer cannot be informed whilst they investigate the matter. We understand the anxiety parents/carers feel when they are not told about any concerns from the outset however, we must act upon the advice given to us in the best interest of the child.

If you have any safeguarding concerns please contact one of the following Safeguarding Officers:
0151 423 2721

Mrs N Harrison
S​enior Leader of Care Guidance & Support
Designated Safeguarding Lead
Miss C Ward
V​ice Principal with responsibility for Safeguarding
Deputy D​esignated Safeguarding Lead
Mrs K Bryan
D​eputy Leader of Care Guidance & Support
Deputy Designated Safeguarding Lead
Mr M Deeney
V​ice Principal
Deputy Designated Safeguarding Lead
Miss C Rylands
L​AC Coordinator & Learning Mentor
Deputy Designated Safeguarding Lead
Mr A Mitchell
A​ssistant Vice Principal
Deputy Designated Safeguarding Lead
M​iss A Webster
L​earning Mentor with Responsibility for Safeguarding & Family Support
Deputy Designated Safeguarding Lead
In the unlikely event of not being able to make contact with any of these members of staff, please report directly to the school Principal, Mr S Corner.

If your concern relates to the Principal, please contact the Chair of Governors (Mrs Chris Fone) at: chair@wadedeacon.co.uk.
Care Guidance and Support
The Care, Guidance and Support Team is made up of a team of Learning and Wellbeing Mentors who can offer support to students and parents/carers creating a positive link between home and school. A mentor would be available to talk over the phone or meet face to face during school hours and can be contacted through the school office or through the Progress Leader. The mentor team are trained to support students and families with issues related to Mental Health, E- Safety and Criminal and Sexual Exploitation. If a mentor cannot help with an issue, they are able to re direct parents/ carers to someone who can.
Prevent
From 1 July 2015, all schools are subject to a duty under Section 26 of the Counter-Terrorism and Security Act 2015, in the exercise of their functions, to have "due regard to the need to prevent people from being drawn into terrorism". This duty is known as The Prevent Duty (June 2015). As part of Wade Deacon High School's ongoing safeguarding and child protection duties, we recognise that safeguarding against radicalisation is as important as safeguarding against any other vulnerability.
All staff are expected to uphold and promote the fundamental principles of British Values. We believe that our students should be given the opportunity to explore diversity and understand Britain as a multi-cultural society and that everyone should be treated with respect. As part of our on-going commitment to safeguarding and child protection, we fully support the Government's Prevent Strategy. Further information can be found here: https://www.gov.uk/government/publications/protecting-children-from-radicalisation-the-prevent-duty
Operation Encompass
In conjunction with Cheshire Police, Wade Deacon High School is involved in an initiative called Operation Encompass.

The purpose of Operation Encompass is to safeguard and support children and young people who have been involved in, heard or witnessed a domestic abuse incident. Following such an incident, children will often arrive at school distressed, upset, worried and unprepared. Operation Encompass aims to ensure that appropriate school staff (Key Adults) are made aware early enough to support children and young people in a way that means they feel safe and included.

At Wade Deacon High School, our Key Adult is Mrs Harrison: Leader of Care, Guidance and Support.

This is a valuable initiative that means we can continue to support and help children and families within our school community when they need it most. You can find out more information by visiting:
www.operationencompass.org or by contacting Mrs Harrison.
Safer Schools Partnership
Wade Deacon High School also works in alliance with Safer Schools and Young People Partnership, we are currently awaiting the allocation of a new Youth Engagement officer.

The role of the Youth Engagement Officer, formerly called School Liaison Officer, is to work closely with schools, staff and to promote positive relationships between young people and the police.
You can find out more about Safer School's Partnership by visiting https://www.cheshire.police.uk/advice-and-support/children-and-young-peoples-safety/safer-schools-and-young-people-partnership/
Online Safety
Internet Matters – this is the main online safety advice site for parents in the UK. Internet Matters has a wealth of information for parents including simple tutorials on how to set up the internet filter on your broadband, settings for all devices, advice and guidance, and much more, the link is below:
Common Sense Media – a huge site which allows you to search on a game or app to learn more about it. It also includes books and TV shows too
Think you know website is also a great source of support, which sends out tasks and activities that families can complete together to get adults and children addressing concerns around staying safe online.
https://www.thinkuknow.co.uk/parents/articles/what-is-live-streaming/
https://www.thinkuknow.co.uk/parents/articles/what-is-the-internet-of-things-iot/
https://www.thinkuknow.co.uk/parents/articles/Has-your-child-shared-a-nude-selfie-subtitled/
www.thinkuknow.co.uk/parents/Support-tools/home-activity-worksheets/
Net-aware is brilliant in terms of understanding the apps kids are using
The video below gives some useful, simple advice and guidance for parents and carers regarding children and their online activities during the pandemic.
Online Safety Support – Parents – AACOSS
Parent & Carer Wellbeing
To be signposted to services across Halton please visit Halton Mental Health information point:
The NHS website is a great source of support for the mental health needs. Visit the site below for further information.
https://www.nhs.uk/conditions/stress-anxiety-depression/improve-mental-wellbeing/
Young Minds offers support and Information on child and adolescent mental health. Services for parents and professionals. Phone: Parents' helpline 0808 802 5544 (Monday to Friday, 9.30am to 4pm)
Further helplines for conditions such as Stress, Anxiety and Depression can be found on the following links:
https://youngminds.org.uk/find-help/looking-after-yourself/
www.nspcc.org.uk/keeping-children-safe/childrens-mental-health/
PAPYRUS is the UK Charity for the prevention of young suicide. For PAPYRUS HOPELINEUK call 0800 068 4141 (open 10am-10pm weekdays, 2pm-10pm weekends and bank holidays).