Whole School Curriculum
Please see the here for our Curriculum Policy
Curriculum Statement
Wade Deacon is a place where potential is discovered, nurtured, developed and fulfilled.
Curriculum Intent
All staff at Wade Deacon High School are committed to providing a high quality, inclusive curriculum that enhances the life of every pupil.  We are passionate about providing exceptional opportunities (inside and outside of the classroom) for students to be academically, culturally, morally and socially rich.
Our curriculum aims to inspire and challenge all learners. It builds on the knowledge, skills and experiences developed in the primary phase and enables pupils to deepen their understanding of a broad range of subjects. We aim to provide opportunities for all pupils to fulfil their potential, setting ambitious goals and developing their capacity to be successful life-long learners, as well as building their cultural capital through a breadth of dynamic curricular, cross curricular and extracurricular opportunities.
At Wade Deacon, every child matters. We pride ourselves on the provision of personalised learning to support every pupil. Therefore, we provide a variety of curriculum pathways to suit abilities, talents and needs, wherever and whenever possible.
Wade Deacon High School is committed to:
providing the core skills, knowledge and understanding that are required for the 21st century.
developing a sense of social and moral responsibility; encouraging pupils to be respectful of others, mindful of their role in their community, in society at large and in the global environment.
providing subject choices that support pupils' learning and progression, ensuring that our vision, mission and values are realised, thus enabling pupils to have the cultural capital they need to succeed in life.
providing every child, regardless of social background, with the opportunity to succeed.
developing pupils' independent learning skills and resilience; with coherently planned and sequenced curricula enabling the development of knowledge and skills for further/higher education, training and employment.
embedding fundamental British values and social, moral, spiritual and cultural purpose.
Our curriculum is designed to cater for all students regardless of their colour, race, nationality, disability, beliefs, sexual orientation or gender identity and we are committed to providing equal opportunity for all children. We insist on a curriculum that removes the notion of disadvantage, encourages resilience, provides equity and equality of opportunity and instils independence and aspiration in our students, so they can become hard working, respectful, tolerant and compassionate citizens who are ready to make a difference.
2020 Curriculum Review
Following a detailed curriculum review process over the last 12 months, the school will introduce a three-year Key Stage 3 from September 2020. Over recent years we have improved the curriculum in the Foundation Stage (Years 7 and 8). We would now like students to benefit from this broad and balanced curriculum for an additional year by extending it into Year 9, before personalising their studies at GCSE in Year 10 and 11. We believe that this will allow us to:
build upon the strong foundation of core knowledge and skills and create opportunities for students to study topics in greater depth before starting GCSE courses
place greater emphasis on opportunities for personal development through wider curriculum learning and enrichment activities
strengthen the options process to further support to students in making well-informed and appropriate choices about the GCSE options they study
broaden the range of GCSE qualifications available for students to choose from, helping them to access an ambitious curriculum that meets their needs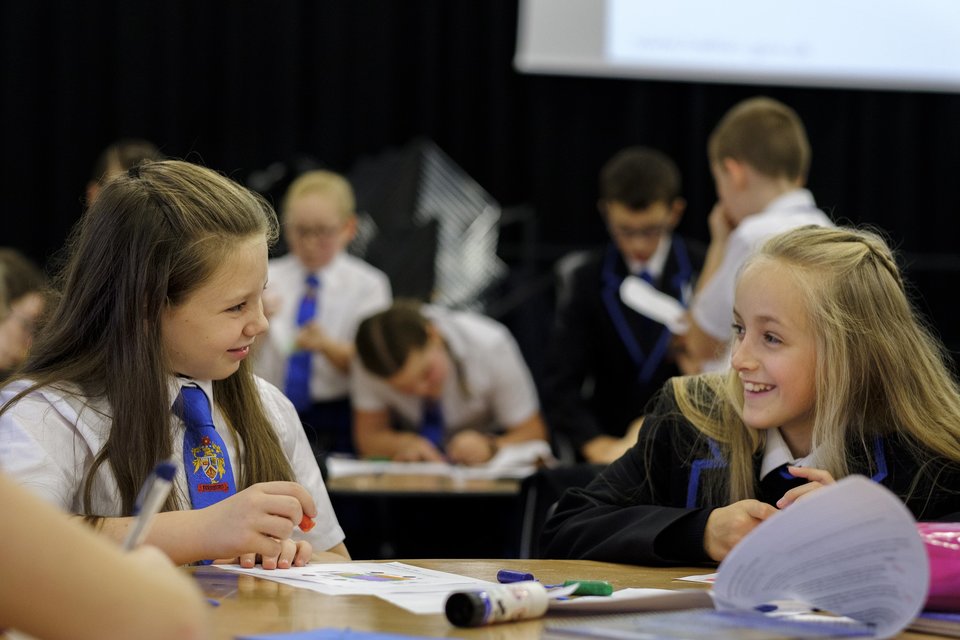 Foundation Years (Key Stage 3: Year 7 & 8) 
We provide a two-year Key Stage 3 curriculum so that students are able to engage more deeply with crucial concepts in Key Stage 4, thus helping them to achieve strong outcomes in GCSE examinations. Our programmes of study are informed by the Key Stage 2 curriculum and our students' outcomes at this stage, so that we are in a position to be able to accelerate progress in Year 7 and capitalise on gains made in the more demanding primary curriculum. 
Our Foundation Stage is designed to teach students the skills that are crucial, not just for excellent grades, but also for their development as learners. Students will be prepared, academically and socially, during this time to enable them to achieve their potential in their GCSE years. We aim to build on the skills of literacy, numeracy, interpretation, deduction, analysis and evaluation to create learners who are independent and who can approach their studies with sophistication, creativity and originality.
From Year 7, students access two different curriculum pathways based on their prior attainment. The mainstream curriculum contains the subjects required for the English Baccalaureate ( Ebacc ) and includes: English, Mathematics, Science, a Foreign Language, History and Geography and which prepares students for the rigours of GCSE, as well as providing a broad range of opportunities to access creative and practical subjects. Students who enter Year 7 with significantly below average literacy and numeracy skills will follow a 'pathway' curriculum, with the majority of activity focusing on developing these key skills to bring them to a level where they can access the mainstream curriculum. These students are taught a theme based curriculum that includes Literacy, Numeracy, History, Geography and an awareness of French. If a child makes enough progress, then they are placed in mainstream groups for English and Mathematics.  
Key Stage 4: Years 9-11  
Our students study a three-year Key Stage 4 curriculum so that: 
teachers have increased time to cover the recently updated GCSE specifications with more rigorous content in greater depth
teachers can re-visit prior learning, which deepens the students' knowledge and understanding to better prepare them for their final examinations 
staff have time in Year 9 to reinforce key skills, which will be built upon as they progress through Years 10 and 11
students have time to explore challenging content, which helps prepare them for new A Levels and equivalent post-16 courses 
students are more confident in their GCSE examinations because they feel better prepared 
we have increased time to run a flexible curriculum that includes enrichment activities, which helps develop our students as rounded, lifelong learners
In Key Stage 4, we provide a varied curriculum, depending on the needs of the students. In addition to the core subjects, students can access a wide range of option subjects so that: 
all students can have the opportunity to achieve the Ebacc 
students can select a curriculum that provides a range of choices and opportunities for post-16 study
we can provide a vocational and career-focused pathway, incorporating technical courses and a personalised curriculum. 
there is an opportunity to support some students with extra Mathematics, English and personal development lessons.
From Year 7 to Year 11, every child's 'Progress to Success' is continually monitored. Students receive detailed feedback in lessons, and parents and carers receive regular updates about their child's progress during the academic year.