Exam Results and Performance Tables
GCSE Results 2022
Wade Deacon students celebrate record-breaking results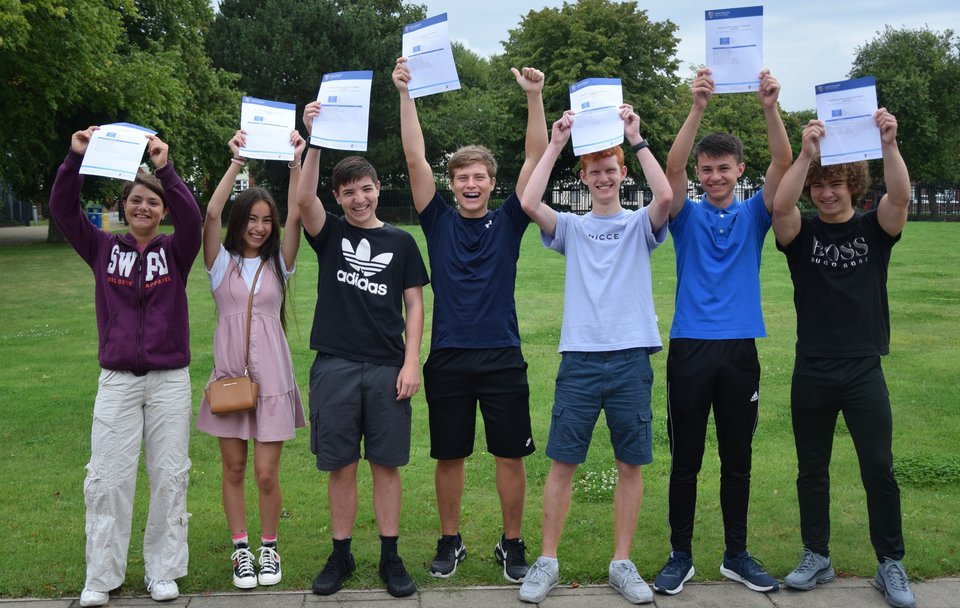 Year 11 students at Wade Deacon High School have plenty to celebrate following as they received their GCSE results. For the first time since 2019, students sat formal GCSE examinations in the summer term and have waited with anticipation for their hard work to be rewarded.
It has been worth the wait!
Wade Deacon has achieved its strongest results yet, with 66% students achieving the 'gold standard' Grade 5 pass in both English and Maths, 81% achieving Grade 4 or above and 21% students achieved a Grade 7 or higher in both of these subjects setting them firmly on track to access their Post-16 education places of choice.
Across all subjects, three-quarters of entries were awarded a Grade 5 or higher, and 1 in 3 entries scored a Grade 7 or above. Attainment in all subjects was exceptionally strong and remains well above national averages, continuing the school's track record of achieving at the highest level across the curriculum.
The average grade achieved by students across all of their exams was a Grade 5, with a number of students demonstrating exceptional achievement with 149 top-level Grade 9s achieved in all. 22 students achieved a full set of results at Grade 7 to 9.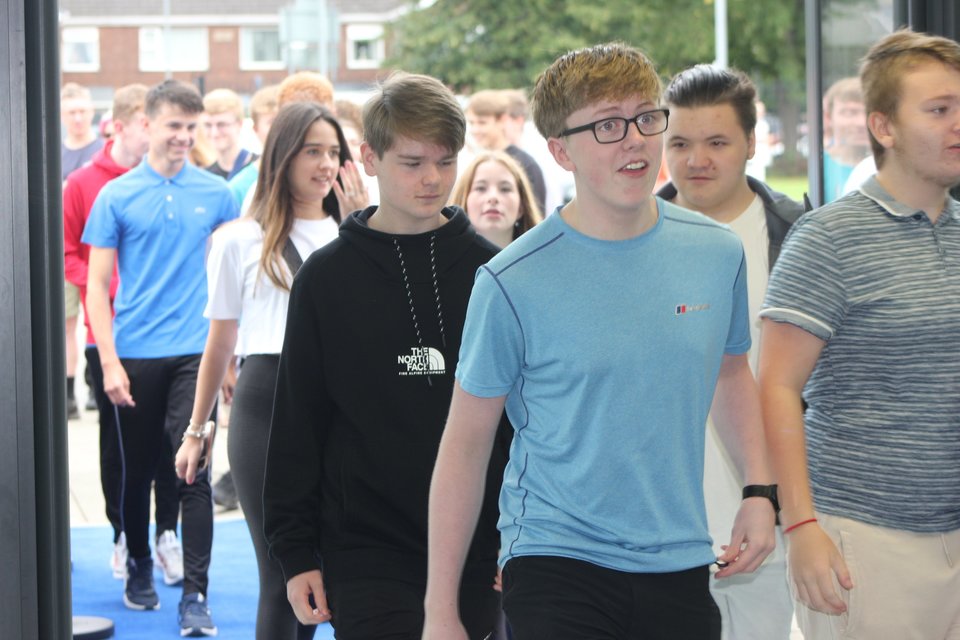 Staff and students are celebrating the achievements of all students as well as a number of other notable individual success stories which saw students overcome personal challenges and difficult circumstances to achieve remarkable progress overall.
Principal Simon Corner said,
"I am delighted with this years' GCSE results and how successful our students have been. Despite the obvious challenges, our students have achieved exceptionally well across the full spectrum of our curriculum and I am very proud of them all. They have shown real determination, resilience and maturity to achieve so well; they are a true credit to our school community and their families. I am also delighted for all of our teachers and support staff who have worked tirelessly to encourage, nurture and support our class of 2022; they really have gone above and beyond to do their upmost for our young people."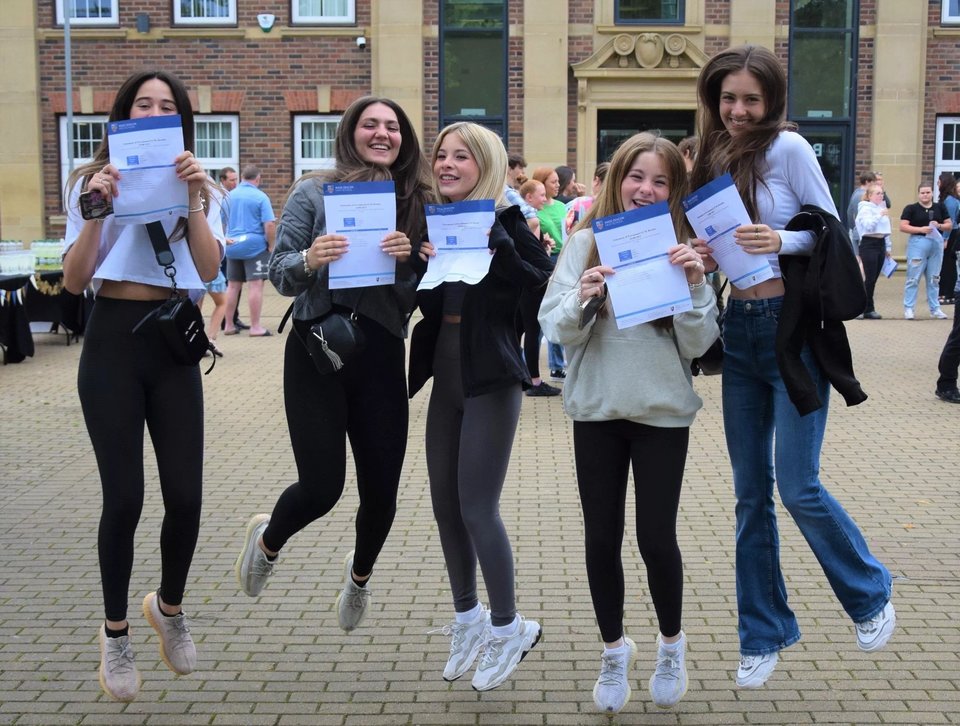 Summary of GCSE Results 2022
Given the uneven impact of the pandemic on school and college performance data, the government has said direct comparisons between the performance data for one school or college and another, or to data from previous years, should not be made.
Key Thresholds (Performance Tables October 2022)
Progress 8 (P8) score (Provisional) : +0.34
Attainment 8 (A8) score: 54.30
90% of students gained 9-4 grades in English
82% of students gained 9-4 grades in Mathematics
81% of students gained 9-4 grades in English and Mathematics
67% of students gained 9-5 grades in English and Mathematics
16% of students gained the English Baccalaureate (9-4)
14% of students gained the English Baccalaureate (9-5)
19% of students entered the English Baccalaureate
English Baccalaureate average point score (APS): 4.58
79% of students gained 5 or more 9-4 (or equivalent) grades including English and Mathematics
63% of students gained 5 or more 9-5 (or equivalent) grades including English and Mathematics
61% of students gained 1 or more 9-7 (or equivalent) grades
100% students secured places in education, employment or training from Sept 2022
95% of students who left in 2020 stayed in education or entered employment for 2 terms
Subject Results
Subject

Students

9

9 - 8

9 - 7

9 - 6

9 - 5

9 - 4

9 - 3

9 - 2

9 - 1

English Language

331

3.9%

13.6%

33.8%

58.3%

75.2%

87.6%

95.2%

97.9%

99.4%

National*

4.3%

11.8%

23.5%

41.7%

61.1%

77.2%

91.6%

96.9%

99.1%

English Literature

331

1.8%

11.8%

28.4%

53.2%

67.7%

84.0%

91.8%

95.5%

97.9%

National*

4.3%

11.9%

24.1%

42.9%

62.4%

77.8%

89.2%

95.2%

98.4%

Mathematics

331

6.0%

14.2%

29.0%

48.0%

70.7%

82.5%

89.4%

96.4%

98.8%

National*

5.3%

13.9%

24.0%

37.0%

56.6%

75.1%

85.6%

93.2%

98.4%

Biology

55

9.1%

38.2%

61.8%

85.5%

96.4%

98.2%

98.2%

98.2%

98.2%

National*

16.5%

33.0%

50.9%

70.6%

85.5%

92.7%

69.9%

98.8%

99.6%

Chemistry

54

9.3%

29.6%

50.0%

72.2%

94.4%

100.0%

100.0%

100.0%

100.0%

National*

16.1%

32.8%

49.9%

67.9%

83.7%

93.1%

97.2%

99.0%

99.7%

Physics

54

16.7%

40.7%

61.1%

81.5%

96.3%

100.0%

100.0%

100.0%

100.0%

National*

15.7%

33.1%

50.5%

70.4%

85.7%

93.9%

97.8%

99.1%

99.6%

Sci. Trilogy

274

2.7%

6.2%

12.4%

27.0%

51.8%

78.3%

93.1%

98.4%

99.6%

National*

1.3%

4.3%

10.3%

20.4%

39.2%

60.5%

82.3%

93.5%

98.1%

Computer Science

61

14.8%

27.9%

45.9%

65.6%

75.4%

88.5%

96.7%

98.4%

100.0%

National*

9.2%

21.3%

33.9%

49.1%

63.0%

75.2%

85.2%

93.0%

98.0%

Geography

128

3.1%

16.4%

32.8%

45.3%

68.0%

84.4%

92.2%

98.4%

98.4%

National*

7.8%

17.9%

30.3%

45.2%

59.6%

72.1%

95.0%

93.5%

98.4%

History

168

6.5%

15.5%

31.5%

51.2%

61.9%

76.8%

86.3%

93.5%

98.2%

National*

7.6%

17.3%

29.5%

44.3%

58.5%

70.6%

83.5%

92.3%

97.5%

French

101

9.9%

31.7%

47.5%

62.4%

84.2%

92.1%

97.0%

98.0%

99.0%

National*

9.5%

18.8%

30.7%

39.6%

67.1%

77.9%

91.0%

96.5%

98.5%

Art

141

5.7%

13.5%

33.3%

64.5%

87.2%

97.9%

100.0%

100.0%

100.0%

National*

6.6%

15.3%

28.1%

47.9%

66.3%

81.5%

92.7%

97.6%

99.6%

Business Studies

115

13.9%

19.1%

34.8%

53.9%

64.3%

79.1%

87.0%

97.4%

100.0%

National*

7.3%

16.6%

28.5%

45.6%

62.2%

75.3%

87.8%

95.0%

99.0%

Design & Technology

60

3.3%

15.0%

30.0%

40.0%

65.0%

80.0%

91.7%

95.0%

96.7%

National*

7.1%

16.0%

26.8%

42.1%

57.5%

71.4%

84.4%

93.4%

98.2%

Drama

22

22.7%

27.3%

45.5%

68.2%

95.5%

95.5%

100.0%

100.0%

100.0%

National*

10.3%

21.7%

34.1%

53.6%

69.5%

80.8%

91.7%

96.9%

99.0%

Food Prep & Nutrition

38

2.6%

7.9%

28.9%

44.7%

63.2%

84.2%

94.7%

97.4%

100.0%

National*

5.5%

13.3%

23.9%

40.1%

57.2%

72.6%

88.3%

96.3%

99.0%

Music

20

10.0%

15.0%

25.0%

60.0%

65.0%

75.0%

95.0%

95.0%

95.0%

National*

15.0%

29.2%

43.7%

60.2%

73.1%

82.7%

92.1%

96.6%

98.7%

P.E. GCSE

19

47.4%

63.2%

89.5%

94.7%

100.0%

100.0%

100.0%

100.0%

100.0%

National*

9.9%

20.9%

34.1%

54.0%

70.3%

82.0%

93.7%

98.3%

99.7%

Subject

Students

D*2

D*2-D2

D*2-M2

D*2-P2

D*2-D1

D*2-M1

D*2-P1

Creative iMedia Certificate

69

0.0%

18.8%

43.5%

73.9%

89.9%

97.1%

100.0%

National*

2.3%

13.9%

33.3%

56.1%

72.8%

85.5%

93.8%

Dance BTEC

51

0.0%

15.7%

52.9%

94.1%

100.0%

100.0%

100.0%

National*

N/A

N/A

N/A

N/A

N/A

N/A

N/A

I.T.

28

3.6%

42.9%

82.1%

89.3%

100.0%

100.0%

100.0%

National*

3.6%

15.9%

35.2%

56.9%

71.8%

82.3%

90.1%

Sport Science

83

9.6%

44.6%

78.3%

92.8%

96.4%

98.8%

100.0%

National*

7.4%

23.5%

45.4%

67.4%

80.9%

90.4%

95.8%

Sport Studies

109

0.9%

25.7%

69.7%

94.5%

98.2%

100.0%

100.0%

National*

3.2%

18.6%

44.0%

69.3%

84.5%

93.4%

97.6%
---
GCSE Results 2019
2019 GCSE Results
+0.22 School Progress 8 (P8) score (Validated)
52.93 School Attainment 8 (A8) score
87% of students gained 9-4 grades in English
79% of students gained 9-4 grades in Mathematics
76% of students gained 9-4 grades in English and Mathematics
58% of students gained 9-5 grades in English and Mathematics
31% of students gained the English Baccalaureate (9-4)
23% of students gained the English Baccalaureate (9-5)
37% of students entered the English Baccalaureate
4.53 English Baccalaureate average point score (APS)
74% of students gained 5 or more 9-4 (or equivalent) grades including English and Mathematics
60% of students gained 1 or more 9-7 (or equivalent) grades
97% of students stayed in education or entered employment (2017 GCSE Cohort information)
Subject 2019 Examinations Results