Literacy
At Wade Deacon High School, we firmly believe that Literacy Is For Everyone. That is why we ensure that key LIFE skills are incorporated and embedded into every lesson through our reading, writing and talking LIFElines.
Literacy Learning Journey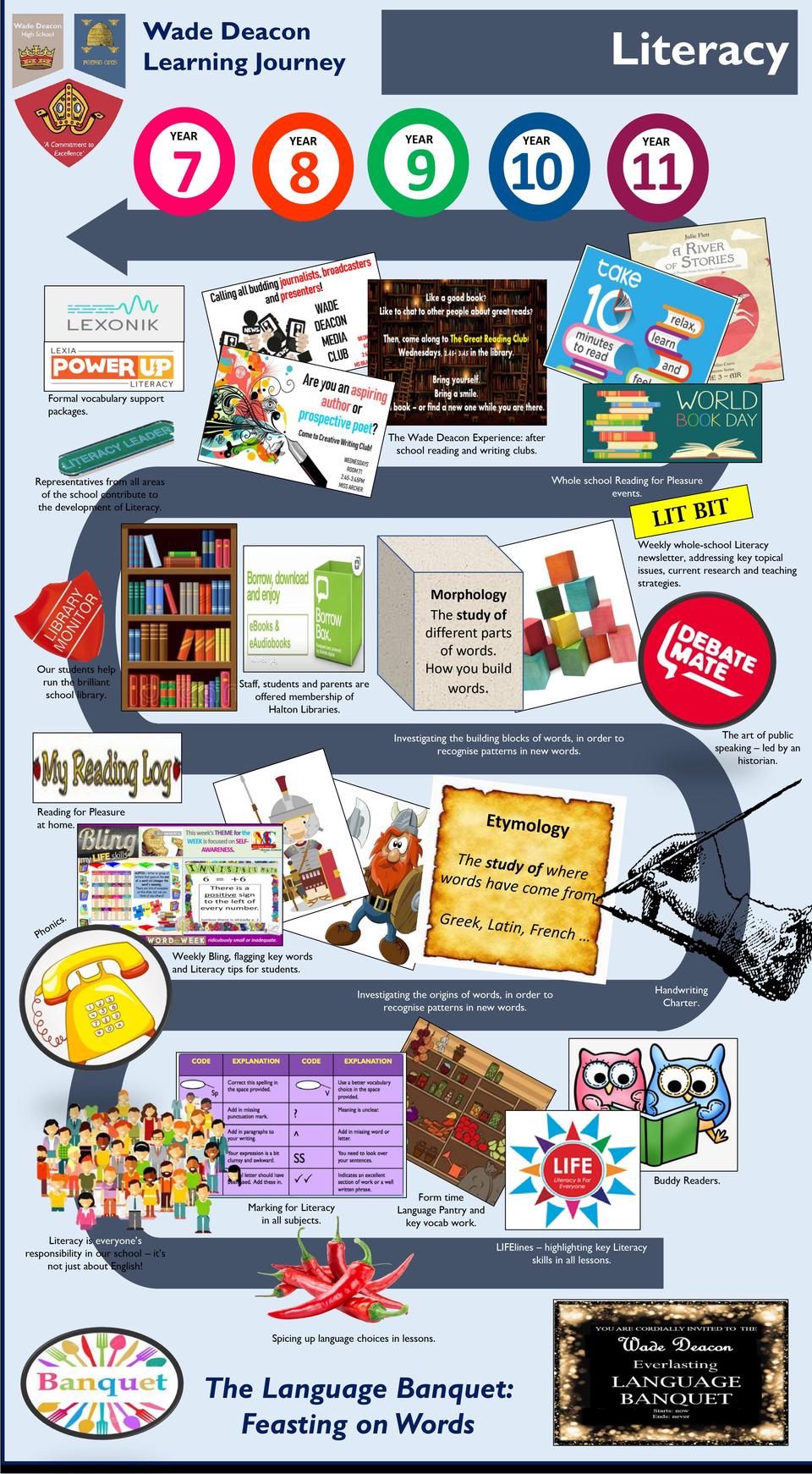 National Literacy Trust: A River of Stories
We are currently developing a range of resources around a beautiful selection of short stories called A River of Stories taken from around the Commonwealth and published by The National Literacy Trust.
These are principally targeted at our Key Stage 3 students with many of the stories being made available as sound files – read by Wade Deacon's dynamic team of Literacy Leaders! This is all very relevant given that we are currently celebrating National Storytelling Week.
The Borrow Box
We are teaming up with Halton Libraries to organise library membership for all WDHS students. Membership will give youngsters access to a huge variety of books, e-books and audiobooks - ideal in these Lockdown times and the best thing is – it's all free! Watch this space!
Numeracy
Numeracy, or Mathematical Literacy, is a vital skill for our students to be successful in the modern world. We are all able to use a calculator to complete simple calculations, but the skills needed to solve a variety of real world situations, at home and in the workplace, as a consumer or a parent, need to be developed and honed. Confidence and competence in numeracy affect all aspects of our lives, every day." (The Mathematical Journey-National Numeracy)
What do we mean by numeracy?
Put simply, it is defined as the ability to solve everyday problems through the application of basic mathematical skills and understanding. An example may be when working out which is the best mobile phone deal, or the best package price with discount for a holiday, or the best mortgage deal over the course of its life.
These skills are more than just what is taught at GCSE, they are developed in the whole curriculum. The expected level of Numeracy skills in the newly reformed GCSE's from Geography to Design Technology has increased, emphasising the importance of these skills across all subject areas.
Wade Deacon places importance on the development of these skills through cross curricular activities in subject areas, during SMSC days, tutor time and whole school activity days. Methods used across the school are developed to ensure they are consistent and students can make the links necessary to embed understanding.
Why is it important?
Traditionally, it has been socially acceptable to say 'I'm rubbish at maths' and the mistaken view that maths is a can-do/can't-do subject. Of those 16-24 year olds with a grade C or above in GCSE maths, less than a quarter were at an equivalent level when their numeracy was tested - suggesting that GCSE is no guarantee of good numeracy. 49% of the working-age population of England have the numeracy level that we expect of primary school children.
Therefore, we all need to support our children to be exposed to opportunities that will encourage their enquiry and help them to develop their all-round numeracy skills.
How can you support your child or develop your own numeracy?
National Numeracy Challenge is a charity which looks to improve the life chances of adults across the country. By signing up online, you are able to complete a number of tasks which will support you in the type of problems that we all face in everyday life. There are opportunities to then develop skills in those areas which are identified.
http://www.nnchallenge.org.uk/
Further, we have developed a guide to methods used in school, whereby you can support at home with the methods we use in school. This is available
here
.
Please continue to check back for additional support available e.g. Parent workshops which have successfully run in previous years.