Student Activities
Activity 1: My Time Capsule
Record information about yourself and the world around you in 2021. We'll keep the information and open it up to share in 2025! Fill in this worksheet to record information about yourself. It should take you about 20 minutes.
Activity 2: My Book Review
What have you read that has really sparked your imagination? Tell us about it in this fun task.
Activity 3: Letter to My Future Self
How are you feeling about everything right now? Imagine being able to capture this and share it with your future self in 2025. How will the you of 2025 react to what you write today? With this activity we can help you to find out.
Activity 4: Treasure Chest
Summer adventure: rise to Captain Bluebeard's mighty challenges to gain a place on board the 'Pride of Wade Deacon'...and claim oodles of terrific treasure!
Activity 5: The Map
Take a peak into your new school using our illustrated map of Wade Deacon High School. Click here to open.
Welcome to Wade Deacon
Take a look at our very own comic strip, created by Mr Tutty (one of our very talented art teachers).
Click on the picture below to open the full comic.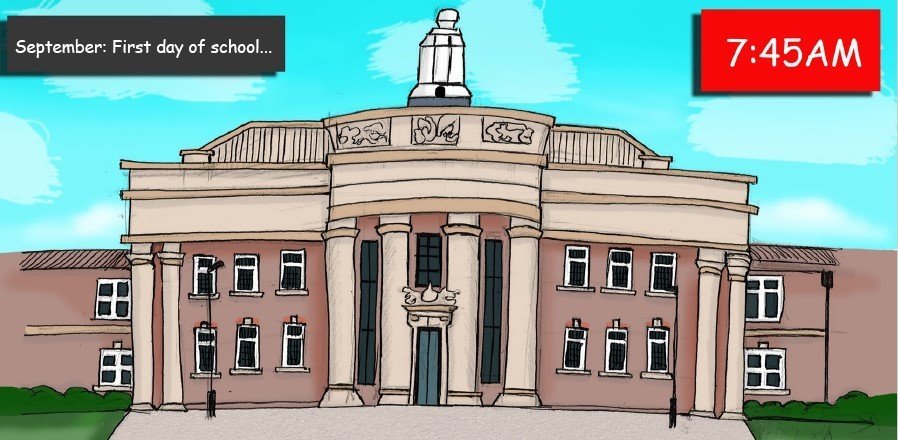 Videos
Walkaround Video
Check out Mr Mealey's walkaround of Wade Deacon High School. This will give you an opportunity to see our fabulous learning environment. Enjoy!
Wear It with Pride
Mr Mitchell hosts this guide to looking your best at Wade Deacon
New Beginnings: A poem of welcome and inspiration
Digital Booklets
Frequently Asked Questions: Now with frequently supplied answers
Your First Year with Us: A pupil guide to Year 7
Uniform Price List: A comprehensive list of the local suppliers of our smart and professional attire