Design Technology
The Design and Technology department at Wade Deacon High School has highly dedicated specialist teachers and support technicians to ensure high quality teaching and learning is delivered in this very creative and enthusiastic department. The faculty is committed to developing new and inspiring projects that will provide pupils of all abilities with a secure understanding of Design and Technology and its implementation to the world of industry.
The Design and Technology department is located on the ground floor of the Red zone with 5 specialist classrooms equipped with state of the art equipment. Two of the classrooms are dedicated to the delivery of Food Preparation and Nutrition. Both a domestic and industrial level kitchen set-up is available for students to experience. The other classroom/workshop spaces facilitate the delivery of Design Technology and include access to laser cutters, a 3D printer, various computer aided manufacturing equipment, sublimation printing systems and computer aided design
Curriculum Aims
Through the study of design and technology, students will be skilled in the design and manufacture of high-quality products in a wide variety of materials, combining practical knowledge with transferrable social, analytical and problem-solving skills and effective time management strategies. Students are encouraged to develop originality in their design work and take risks to promote creativity and flair.
Students will become confident and resilient learners who have experienced an enjoyable learning journey and gain an understanding of how the subject area fits into the local, national and international art, design and technology community.
Our Curriculum Journey
Key Stage 3
Design and Technology is everywhere and in everything. It is difficult to imagine what would happen without the creative minds developing new products and solutions to essential everyday problems and desires. With this in mind, Design and Technology is essential to everyone's future.
At Key Stage 3, students will undertake a range of skill based projects to facilitate the mastery of key knowledge, skills and understanding in both design technology and food preparation and nutrition. Students will be taught Design and Technology for two hours per fortnight in Year 7 and 8, and three hours each fortnight in Year 9. Teaching is in mixed ability groups and students will remain with the same class teacher as they rotate through the different DT disciplines.
KS3 Design Technology Learning Journey
Key Stage 4
In Key Stage 4, students can choose from to specialise in their study of technology subjects.
Design Technology GCSE (AQA)
Year 10 study will see students building on the knowledge, skills and understanding gained in Year 9 and applying them to their chosen controlled assessment task which has been taken from a selection offered by the exam board. Their NEA (non examined assessment) portfolio starts in early June. Students will be encouraged to develop originality in their design work and take risks to promote creativity and flair within their coursework. Their research and design skills will be broadened alongside GCSE level theory and examination skills.
Year 11 sees the completion of the students controlled assessment which accounts for 50% of their overall mark. This year focuses predominantly on the development of a depth of understanding of theory content in preparation for their 2 hour theory exam which constitutes 50% of their overall mark.
KS4 Design Technology Learning Journey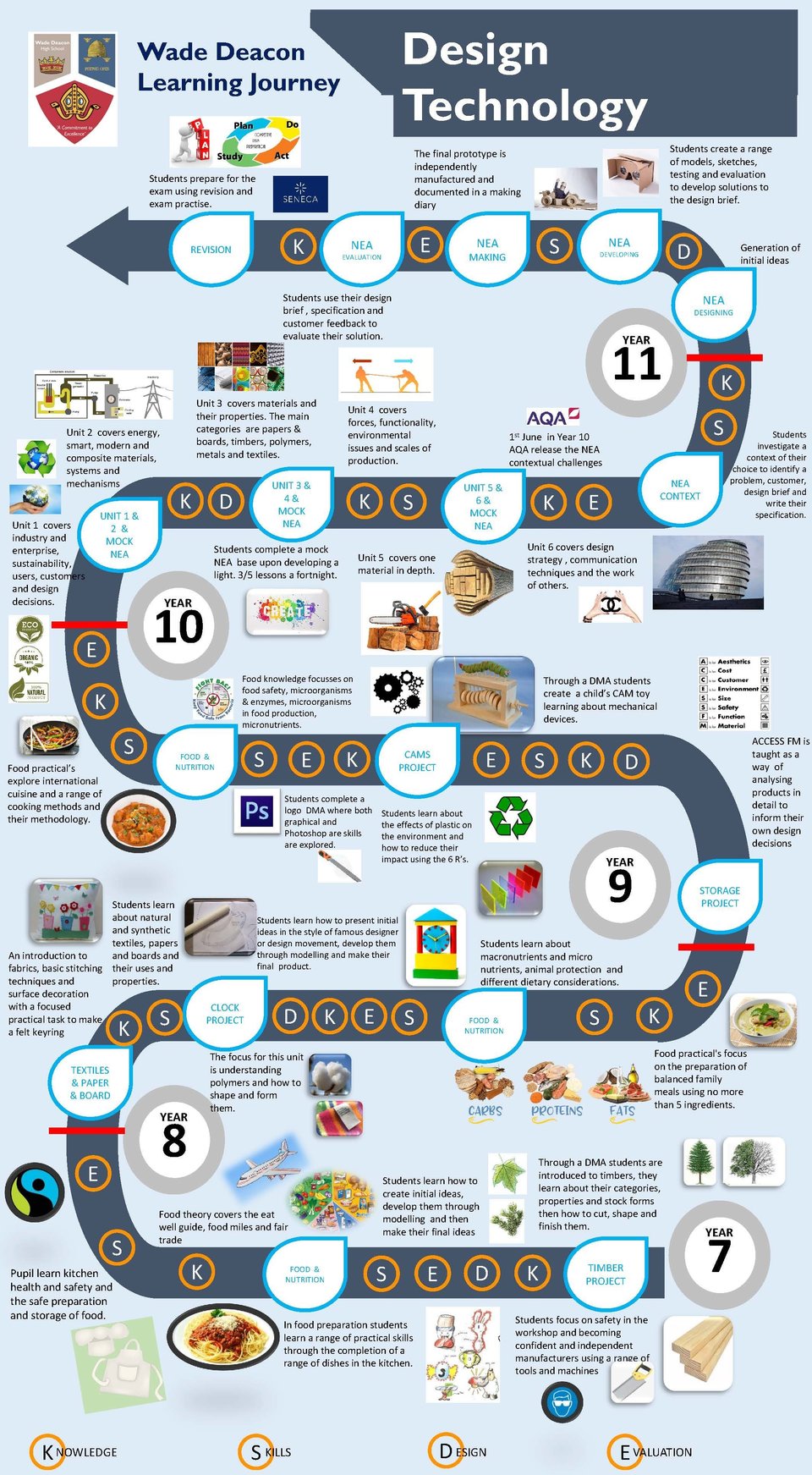 Creative iMedia (Level 2 Cambridge National)
Creative iMedia teaches the use of digital technologies to explore the creative side of computer-based work including film, television, web development, gaming and animation, photography and has IT at its heart. The curriculum provides knowledge in a number of key areas from pre-production skills to digital animation and has a hands-on approach to learning using industry approved software which ensure students can seamlessly move into further education or jobs within this sector.
KS4 Creative iMedia Learning Journey